Chiropractic Care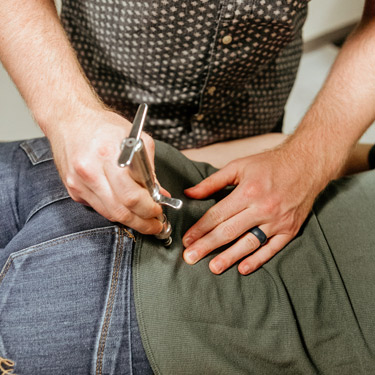 Release the Potential of Your Nervous System
Chiropractic care is a system of unleashing the incredible potential of the nervous system. There are many stressors in life that interfere with optimal function. Chiropractors focus on common physical stressors that often result in subluxation.
Subluxation are what chiropractors call the small misalignments in your spine. These misalignments are caused by three things: thoughts, toxins, and traumas. Thoughts are things like all the stress that we are under, troubles in relationships, or loss of loved ones. Toxins can come from everything that we put in our system including unhealthy eating habits, pollution, smoking, and secondhand smoke. Traumas come in two forms, we see people that have big traumas such as car accidents, trips and falls, and sports injuries. But we also suffer from micro-traumas such as sitting at a desk too long, repetitive actions at work, or lifting heavy objects.
Malpositioned vertebrae, whether from injury, genetics or repetitive motion, result in nerve interference. This interference consequently leads to dysfunction.
If you're experiencing less-than-optimal function, we can begin the process of removing nerve interference through these customized techniques:
Torque Release Technique™
Dr. Spencer is a certified Torque Release practitioner, and delivers adjustments through a handheld device called "The Integrator." This is a neurologically based technique and well liked by our practice members. There's no twisting or popping of the spine, and the adjustment is reproducible, gentle and specific; it's suitable for all ages and every condition. We find that this respected technique is highly beneficial for calming the entire nervous system.
Webster Technique
Dr. Spencer is also Webster-certified. He uses this technique primarily for moms-to-be to help them experience a great pregnancy and positive birth outcome. The technique is gentle and safe and involves a pelvic-specific adjustment. Optimal alignment in this area provides the baby with maximized room in the womb, with a relaxing of muscles and ligaments in the area.
ICPA Certified
Dr. Spencer is an ICPA certified chiropractor. To receive this certification Dr. Spencer completed extensive training and continuing education. Then passed a rigorous certification exam. He is the only ICPA certified chiropractor in a 45 mile radius.
Benefits of Chiropractic Care
Most people are aware of the pain-reducing benefits of chiropractic care, but here are some additional attributes that we've observed from personal experience:
Anxiety relief
Better sleep
Elimination of reflux and other digestive issues
Enhanced immune system function
Improvement in herniated cervical and lumbar disc pain
Migraine recovery
Scoliosis improvement
At Adjusted Life Chiropractic, we take the goals and challenges of our patients seriously, no matter their age of physical condition. Our practice members appreciate our attention to detail and our focus on education. Do you have a problem we can help? CONTACT US

Frequently Asked Questions
Yes! We are in-network with all insurance providers. On your first day in the office, we will take your insurance information and run a benefits check for what cost would look like moving forward.
Do you take X-rays on everyone?
No, we don't X-ray pregnant mothers. For everyone else it's dependent on their age and what's going on, but MOST people we X-ray on the first day because we want to make sure everything is safe to adjust, and we never take a guess on your health. That's why we X-ray most people on day 1!
We use something called an
Integrator
to perform a gentle, specific adjustment. With this technique, we can adjust the bone in a more specific way, so that you get to feeling your best!
Why do kids need to see a chiropractor?
All of our growing and development happens during the early years of our lives. Kids who get adjusted regularly see strengthened immune systems, Improved sleep, Improved behavior, and Increased brain development. The birthing process can be very traumatic, and this treatment helps to correct and align what's going on behind the scenes. Dr. Spencer is ICPA certified (the standard for pediatric training). He is the only ICPA certified chiropractor in a 45-mile radius!
Yes! We love seeing pregnant women in the office. Dr. Spencer is specialized in
Webster's technique
which is a technique primarily for moms-to-be to help them experience a great pregnancy and birth outcome. We see expectant moms through
their pregnancy
, postpartum, and their babies!
Do you only use that adjusting tool?
We use the Integrator MOST of the time. Dr. Spencer will perform a manual adjustment when necessary, but the majority of the time we will use the Integrator to adjust you.
What Our Patients Say
I appreciated the extra effort to look into my case and the direct honesty about your abilities and limitations.

I'm excited to get back into chiropractic care and have my body function properly again!

I felt at ease and confident I'd come to the right place!

Very knowledgable and very good assessment. Looking forward to my follow up visit to hear next steps. Awesome Team made me feel like I mattered. Thank you

It was a great first experience! I'm looking forward to continuing my care at your practice.

Very caring, start to finish. A very wholistic approach to individual care. I appreciate this very much.

I've never been to a chiropractor before. I felt like the initial assessment and tests showed exactly where my trouble points are. The staff was extremely kind, caring, listened well and gave me hope that they will be able to help relieve some, or most of my discomforts, I've been having and that have been slowly getting worse for years.

Chiropractic Care | (402) 413-9464