Pediatric Chiropractic Care in Lincoln
Helping Children Blossom and Thrive
We're honored to be your Lincoln pediatric chiropractor. But just what is pediatric chiropractic and how can it help your family? The best way to describe it is to say that it's a safe, gentle and efficient way of restoring and maintaining nervous system health in children. Everyone from newborns and babies to grade-school kids and their teenage counterparts can benefit from it.
Spinal misalignment in children commonly begins during the birth process itself. The combination of traumatic birthing procedures and the tight, nine-month confinement of the baby in the womb can easily take a toll on the spine of the infant. For this reason, it's of vital importance that your child is checked as soon as possible.
Chiropractic care is on the leading edge of advanced technology in helping little ones thrive. Ongoing research and analytical studies have made our gentle treatment the sensible choice in wellness care for children.
The biggest reason we see children in our office isn't because there is anything wrong with them, but because their parents know that a healthy nervous system is important. They understand that this is achieved using gentle, and specific chiropractic adjustments.
ICPA Certified
Dr. Spencer is an ICPA certified chiropractor. To receive this certification Dr. Spencer completed extensive training and continuing education. Then passed a rigorous certification exam. He is the only ICPA certified chiropractor in a 45 mile radius.

Common Conditions We Can Help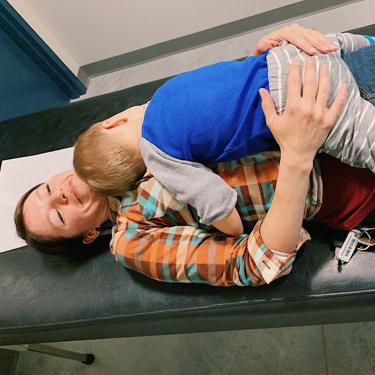 We love working with newborns and babies at Adjusted Life Chiropractic. Our adjustment techniques are extremely streamlined and gentle. It's been our experience that kids respond quickly to our care.
In the first developmental stages of life, your baby only has three major functions to carry out on a daily basis: to be able to receive sufficient nourishment, to sleep well for extended periods, and to eliminate efficiently. Anything that is less than optimal in those areas is always causing for concern and indicates a nervous system that isn't working up to par. Some conditions that routinely respond well to chiropractic care include colic, constipation, feeding difficulties, reflux and sleep issues.
We Welcome Children With Neuro Developmental Disorders
We hold a special place in our hearts for children that have been diagnosed with conditions that can make life challenging not only for them but for their families as well. We know that an optimized nervous system can improve almost any neurologically based disorder. That's why we welcome children with neuro-developmental disorders dealing with the effects of these conditions:
ADD
ADHD
Autism Spectrum Disorder
Down syndrome
Vaccine-related injury
Schedule Your Visit Today
Our goal is to help healthy kids grow into healthy adults; we also want to help those children with neurological issues have a better chance of participating in a rewarding life. Please contact us today for a convenient appointment; we look forward to meeting you and your child!


Pediatric Chiropractor in Lincoln NE | (402) 413-9464