The Integrator™ and Torque Release Technique™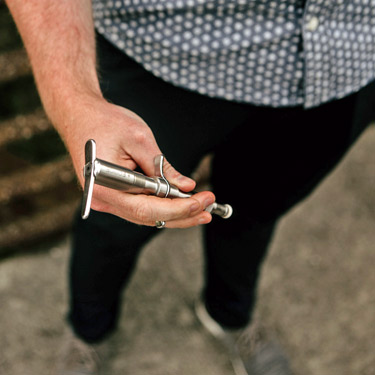 Whether you've been putting up with persistent back pain or recently sustained a sports injury, you want effective relief. If you're like a lot of people, you also are seeking drug-free care that's also gentle. We're pleased to be only one of three chiropractic offices in Lincoln that offer Torque Release Technique (TRT). Dr. Spencer is a certified Torque Release practitioner.
What Is TRT?
TRT is a neurologically based technique that is focused on your nervous system. It's different from other traditional chiropractic techniques in that it's so specific. Dr. Spencer can identify the precise point on the spine that requires adjustment of nerve frequency.
Did you know that TRT is also one of the most scientifically researched techniques that are used today? The method allows the signals to get from the brain to the rest of the body efficiently.
TRT uses a handheld instrument called The Integrator. This instrument is the first-ever FDA-approved tool to remove subluxations. The Integrator replicates the complete thrust and movement elements of toggle recoil, the traditional chiropractic method of adjusting by hand at an incredible speed of 1/10,000th of a second. The instrument delivers a precise, fast and gentle adjustment.
With TRT, your body can heal quickly, adapt and recover without the use of drugs.
Gentle and Suitable for All Ages
With TRT, there's no twisting or popping of the spine, and the adjustment is reproducible, gentle and specific; it's suitable for all ages and every condition. From young children to older seniors to pregnant women, practice members of all ages can benefit from this technique. We find that TRT is highly beneficial for calming the entire nervous system.

Conditions TRT Can Address
Here are some of the many types of conditions that TRT can successfully manage:
Back pain
Carpal tunnel syndrome
Fibromyalgia
Migraines
Neck pain
Plantar fasciitis
Sciatica
Sports injuries
Whiplash
The What:
The How:
The Why:
Book an Appointment
Discover the difference that TRT can make in your health and life. Contact Adjusted Life Chiropractic today to schedule an appointment.
We look forward to helping you heal!

Integrator and Torque Release Technique | Adjusted Life Chiropractic | (402) 413-9464