Meet the Team at Adjusted Life Chiropractic
Dr. Spencer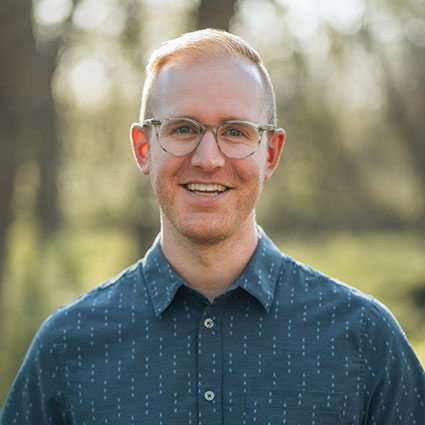 Hey, I'm Dr. Spencer! I love educating our practice members, it's so cool to see the "light bulb" turn on when they understand their body and the connections between their story and their health. Most days you'll find me at a coffee shop around town meeting with friends and collegues to learn from each other on all things life, business, or how to grow a sweet beard. I am most known as the chiropractor with the red beard, and while I didn't come out of the womb with this beard, I have had it since my undergraduate days.
I was born and raised in Fremont, Nebraska where I got my first taste of small business ownership as I watched (or rather worked for free) family members open and run their own businesses, including my parents! I went to the University of Nebraska-Lincoln to study Food Science with a special focus on food allergies. Struggles with food allergies, including anaphylactic shock, is a large part of my chiropractic story.
I've always had a desire to be a chiropractor. I attended graduate school at Palmer College of Chiropractic and immersed myself in all sorts of clubs and classes. Early on in school I discovered my passion for pediatric chiropractic. Helping kids thrive and grow up healthy is the best. There is no filter with kiddos and they will let you know what they are thinking and feeling, so when a kiddo tells me "my head doesn't hurt!" or my personal favorite, "I pooped!" there's just nothing better. Our mission is simple, help families start living their Adjusted Life.
Bonus fact: I love to play tennis! When I studied abroad in Spain, I stopped in London for a week to watch Wimbeldon which was absolutely incredible. My next trip is to go to Australia to watch the Australian Open!
I LOVE to chop wood! We installed a wood stove to heat our home, so I've enjoyed stocking our backyard with all the wood Lincoln has to offer.
Read more about Dr. Spencer >>
Casey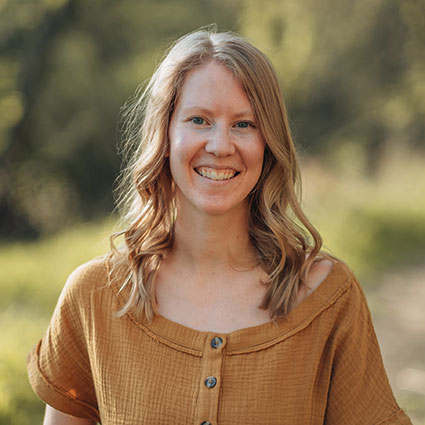 Hi there, I'm Casey! I am Dr. Spencer's wife and boss lady here at Adjusted Life Chiropractic. You'll often find me behind the front desk chatting away with practice members or on the floor in the kids corner reading books with little ones. Outside of the office I am a lover of sunshine, Netflix, running, and traveling. You'll often find us exploring new places or traveling again and again to our favorite spots.
I grew up in Urbandale, Iowa and while I am a proud (and often overly giddy when I meet others from my homestate) Iowan, I came to adopt Nebraska as my home as well. I came to Lincoln by way of the University of Nebraska-Lincoln where I met the bearded doctor in the Cornhusker Marching Band. While in chiropractic school, Dr. Spencer and I made the decision to open our own practice where we dreamt of creating a space for families to find hope and healing.
Dr. Spencer introduced me to chiropractic and it was love at first adjustment. Suffering from panic attacks and anxiety, consistent chiropractic care has allowed me to thrive and feel more like myself. My favorite part of this job is learning our practice members' stories. Each person comes to chiropractic in such a unique way and I want to honor their story and stand alongside them through this journey.
Bonus fact: My dad loves to tease me about how I splashed around in the Mediterranean Sea when my family was stationed in Italy, but since I was a whole 2 years old I have no remembrance of being overseas. So, very top of my bucket list is to go back to Italy!!
Courtney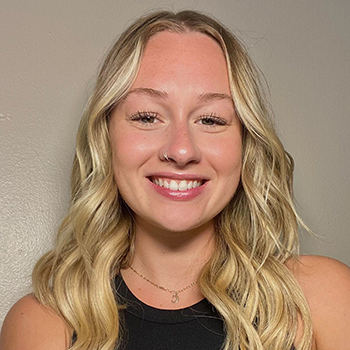 Hey ya'll, I'm Courtney! You will most likely see me behind the front desk, sipping a coffee and eating snacks, while looking for new workouts to incorporate into my training. Outside of work, I can usually be found at the gym, walking my dog or hanging out with my family!
I was born here in Lincoln, Nebraska, where I attended Lincoln Southeast High School. I played Volleyball throughout my four years there, as well as played for VCN. Following that, I played college volleyball for Buena Vista University as a Libero, where I found my love for helping people.
I begun my journey with chiropractic care after minor injuries from sports, followed by a car accident where I suffered from whiplash. Its amazing how much of a difference one adjustment can make!

Meet the Team at Adjusted Life Chiropractic | (402) 413-9464