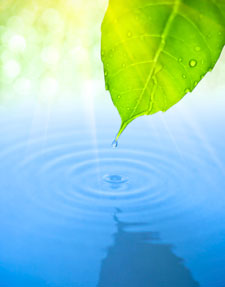 With Earth Day on the near horizon (April 22), there's no better time to spring into some healthy habits—to nourish your body and care for the planet. Earth Day is an annual event that's celebrated worldwide. At Adjusted Life Chiropractic, we want to encourage you to be mindful of practicing good health habits and ecological ones.
Get Adjusted
Naturally, we sing the praises of chiropractic because it's a natural, safe and effective way to optimize and renew your health and reduce stress. When your spine is in alignment, you can enjoy greater mobility, function and flexibility. Chiropractic also can help you detox without the use of medications.
You'll feel your best so you can get out in nature this Earth Day. Whether you enjoy walking, gardening or cleaning up your community, chiropractic can help you get outside and stay active, pain-free on Earth Day and beyond.
Drink Plenty of Water
One of the best ways to keep your body healthy is by staying hydrated with good old H20. Water can flush out toxins, boost energy, enhance the immune system and much more. Consider keeping a BPA-free reusable water bottle beside you throughout the day to ensure you're drinking enough.
Adopt Earth-Friendly Practices
When each of us does our part to protect the environment, we all can enjoy a cleaner, greener planet. Here are some tips:
Conserve water
Plant a tree
Donate clothing
Recycle
Eat local
Refuse to use plastic bags
Write Yourself a Nature Rx
Did you know that in some countries, such as Scotland, doctors are prescribing time in nature? That's because this type of ecotherapy can boost mood, decrease depression, alleviate anxiety, reduce stress and more. Various conditions such as high blood pressure and diabetes can respond to time in nature. Being outside in the sunshine enjoying fantastic health benefits is a win-win, not only during Earth Day but year-round!
If it's been a while since your last chiropractic adjustment, contact us today to schedule an appointment!